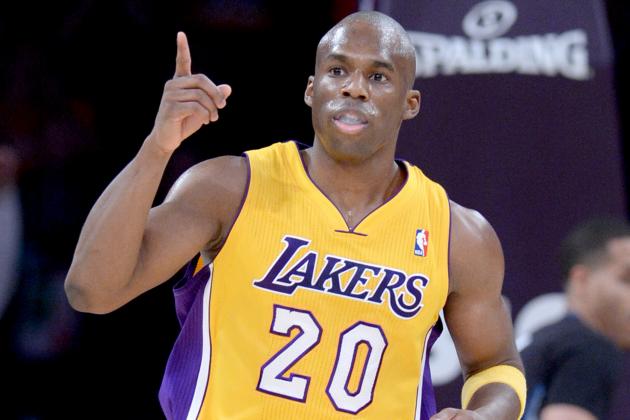 Note: All grades are handed out according to preseason expectations vs. actual production.
6.8 PPG, 5.7 APG, 1.9 RPG, 0.1 WS, .017 WS/48 on 38.3% shooting and 33.3% shooting from deep. Grade: (Inc.)
Remember when we were excited about trading for Steve Nash during that amazing 2012 off season (that led to that frustrating 2013 season)? It feels like such a long time ago that Nash was stealing MVP trophies from
Kobe Bryant
,
Tim Duncan
and young
LeBron James
, while easily being top-2 in offensive production out of a point guard, his only competition being
Chris Paul
. Those days are long past us, as Nash can't even stay on the court anymore, let alone control a team's offense.
Nash looked extremely bad this season, being one of the worst players on the roster for the 15 games that he played. This was emphasized, as he constantly had the ball on offense, and teams were constantly pushing their offense through him on defense. Nash's value has always been on the offensive side of the ball, but this past season, he had absolutely no value, as he could never get it going. To be fair to him, I don't think Nash is worthless (though he's certainly not worth the 9.7 million he is getting this year), but he cannot play the same style he used to prior to being traded. His value no longer lies in running an offense to perfection; the best he can be now is a spot up shooter that helps spread the floor and a guy who can bring the ball up without having any incidents. I'm assuming he can even play, because he was hurt all year long, with some serious leg strength problems. The only reason I'm hopeful that he can still be a good enough shooter is because he was a terrible shooter because he couldn't get enough lift under his legs.
It's difficult seeing such a great player decline so hard.
Point Guard:
Steve Blake
9.5 PPG, 7.6 APG, 3.8 RPG, 0.8 WS, .041 WS/48 on 37.8% shooting and 39.7% shooting from deep (w/LAL). Grade: (B)
Good, old, reliable Steve Blake. I was sad to see him go because he was always a player who played hard on both sides of the ball. He was also the Lakers only reliable defensive player at point guard, so trading him became a problem. Blake was a steady presence on a crappy team, and really helped get everybody involved in the offense, which was incredibly helpful for guys like
Wesley Johnson
, who struggle to create their own shots.
Blake was never a spectacular player, but he at least tried to make the Lakers watchable last year. For as much heat that he got the past few seasons because of lackluster performance, he really made up for it in his last two seasons in Los Angeles. I do wish him well with Portland (except when he plays the Lakers). He might not be a guy we'll remember in 5 years, but at least we'll always have that game winner over
Dwight Howard
. #VinoBlanco
Pictured at the free throw line: All of Steve Nash's 0.1 Win Shares in one convenient GIF.
Point Guard:
Jordan Farmar
10.1 PPG, 4.9 APG, 2.5 RPG, 0.7 WS, .039 WS/48 on 41.5% shooting and 43.8% shooting from deep. Grade: (B+)
At first, I felt a B+ was too high for Farmar, who barely qualified to even receive a grade, as he only played 41 games. But, then I remembered what he was doing in the NBA last season, which was nothing because he was playing in Turkey at the time. It looks like he never left, because he had a very similar season in his previous NBA season with the-then New Jersey Nets.
I don't think anybody thought Farmar would come in, fresh from non-NBA competition, and have such a big impact on the game. It certainly caught me by surprise, as he was driving past guys with ease, and making them pay later in the game for sagging off of him. He was a big reason why the bench was one of the best in the league early on, and they kept on chugging even after Farmar went down with injured hamstrings. It was nice having him around again, but he will be a nightmare to contain now that he plays on the Clippers and their three point heavy lineup because he showed notable improvement in the passing area. He averaged 7.9 APG per 36 minutes played, which is the highest of his NBA career. A solid season from a guy I didn't really expect to produce that much.
Point Guard:
Kendall Marshall
8.0 PPG, 8.8 APG, 2.9 RPG, 0.9 WS, .029 WS/48 on 40.6% shooting and 39.9% shooting from deep. Grade: (A+)
If there was a surprising, emerging player on the Lakers last year (basically half of the team was) that deserves huge praise, it's Kendall Marshall. After being a lottery pick in the 2012 NBA Draft, he played pretty badly with the Phoenix Suns for his rookie season. So bad, in fact, that the Suns parted ways with the young point guard after one season. He was traded to the Washington Wizards as part of a package deal that sent
Marcin Gortat
to the Wizards before being cut three days later and finding himself in the D-League, with out an NBA team to call his own. The Lakers scooped him up a few months later, and suddenly we had a legit, distributing point guard on the roster.
Marshall started off really hot, as he averaged 12 PPG and 11.5 APG in his first month with the team. These numbers, predictably, dropped, but he was still distributing the ball well. He actually finished 2nd in assists per game (yes, really), tied with
Ty Lawson
and
John Wall
, behind Chris Paul. Marshall had become somewhat of a burden when it came to scoring, as he could only take open three point shots and couldn't create any sort of offense to speak of. Nonetheless, his assist numbers were eye popping for a guy who so blatantly discarded by the NBA a few short months before that.
He was placed on waivers last month, and the Milwaukee Bucks happily picked him up. Here's hoping he continues his run of success after being given a second chance.
Shooting Guard: Kobe Bryant
13.8 PPG, 6.3 APG, 4.3 RPG, -0.4 WS, -0.097 WS/48 on 42.5% shooting and 18.8% shooting from deep. Grade: (Inc.)
This past year was rough for Vino. After having an incredible 2012, he tore his Achilles tendon trying to carry his team to the playoffs. He went through his recovery period, watching his team play horribly without him before finally being cleared to play. Everybody was excited, and we got an (expected) sloppy Kobe Bryant before he broke a bone in his knee during the third quarter in a game against the Memphis Grizzlies. Kobe, being the insane person that he is, returned to play the fourth quarter and helped elevate the Lakers over the Grizzlies with a huge three pointer down the stretch. It was all for naught, as we found out the next day that Kobe had been seriously injured, and was expected to miss 6 weeks.
Except, those 6 weeks turned into the whole year because the bone wasn't healing well at all. It's clear that Kobe's age is finally catching up to him. He is now 100% healthy, but I doubt he is even close to being in game shape. It might be a while until we see Vintage Kobe again, if at all. For now, we can be hopeful that he will be back for the majority of next season.
Shooting Guard:
Jodie Meeks
15.7 PPG, 1.8 APG, 2.5 RPG, 4.5 WS, .084 WS/48 on 46.3% shooting and 40.1% shooting from deep. Grade: (A)
And now we get to one of the bright spots on this train wreck of a team. Meeks was at his absolute best last year, averaging a career high in points, assists, rebounds and steals, while shooting a career high from the field and three point range. Meeks was one of the few players who stayed off of the disabled list, as he played 77 games, starting in 70.
Meeks is a very streaky player, but he seemed to improve on this last year, as he was able to cut down on his cold streaks because his decision making was notably improved, often times passing up a few shots he would have normally taken to make the extra pass, or to drive into the lane. His defense was average, as it usually is, but his offense was vastly improved. There is a reason why he went from 1.5 million this year to 6.3 million next year, as he starts his new 3 year, 19 million dollar contract with the Detroit Pistons. That reason wasn't because the Pistons are desperate for any and all three point shooters (they are), but because he was so good last year. It's a shame the Lakers didn't keep him because he would really helped the bench this upcoming year.
Shooting Guard:
MarShon Brooks
6.4 PPG, 1.2 APG, 1.7 RPG, 0.3 WS, .072 WS/48 on 48.9% shooting and 57.1% shooting from deep. (w/LAL) Grade
:
(Inc.)
MarShon Brooks was acquired in the Steve Blake trade from the Golden State Warriors and... there's not really much else to say about him. He had a very promising rookie season in 2011-2012 with the Nets, but hasn't done anything since. Teams weren't really seeing any potential, evidenced by Brooks playing on 3 different teams this past season (Boston, Golden State and Los Angeles).
He is still a free agent, and nobody really has any interest, except for the Indiana Pacers, due to the aftermath of the
Paul George
injury. A very forgettable player and this might be the last we'll see of him in the league.
Shooting Guard:
Kent Bazemore
13.1 PPG, 3.1 APG, 3.3 RPG, 0.4 WS, .029 WS/48 on 45.1% shooting and 37.1% shooting from deep. (w/LAL) Grade: (Inc.)
The other player who came in the Steve Blake trade, Bazemore was surprisingly productive for the few games that he played with the Lakers. Unfortunately for him, he tore a tendon in his foot (because this team was cursed) that ended his season in early April. That's very unfortunate timing for him, as nobody is looking to sign a guy who just had a pretty serious injury close to the end of last season. Hopefully, if he gets healthy, the Lakers will look in his direction, should they need bench help, because he really did look like an NBA caliber player last year.
Shooting Guard:
Manny Harris
8.1 PPG, 1.2 APG, 3.8 RPG, 0.0 WS, .002 WS/48 on 42% shooting and 35% shooting from deep. Grade: (Inc.)
The amount of Incomplete players on this list is baffling. There were so many injuries, I'm forced to review guys like Brooks and Manny Harris for the few games they played filling in because of injuries. Manny Harris wasn't good in the small amount of time he played. That's pretty much all I can say about him.
Part two, coming soon!