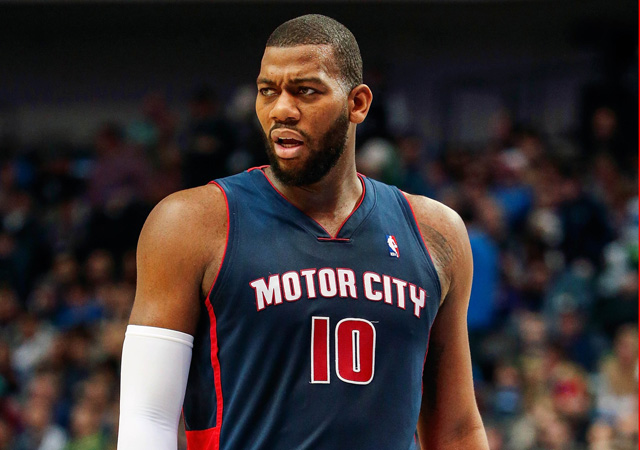 Greg Monroe needs a new team to showcase his ability
Okay, so we have to set some ground rules for this list, that would have
LeBron James
as the uncontested number one player 100 times out of 100. This list will contain guys who the Lakers could realistically pursue and acquire. So while guys like LeBron,
Dwyane Wade
,
Chris Bosh
and
Carmelo Anthony
would all be pursued by the Lakers, it's highly unlikely we get any of them, especially Miami's Big Three, who look like they will be re-signing as soon as possible. This includes older players, who are legendary on their respective franchises, like
Dirk Nowitzki
and
Tim Duncan
. This does not include guys who have restricted contracts, since not all of their teams will match all of the offers that are given to them. Without further ado, your 2014 Free Agency Power Rankings:
1)
Kyle Lowry
, Unrestricted, Point Guard, Toronto Raptors.
17.9 PPG, 7.4 APG, 3.6 RPG, 20.1 PER.
Kyle Lowry has been absolutely fantastic this past year for the Raptors, and he could be had for less than a max contract; despite being a top five point guard in all advanced statistics, a lot of teams didn't really know how well he was playing, due to playing on the Toronto Raptors. That has changed after his good showing in that first round playoff series against the Brooklyn Nets, as he managed to open some eyes, averaging 19.7 points per game and a 17.5 PER.
I'm sure the Raptors think very highly of Lowry, however because he is an unrestricted free agent, they have no pull over where he might end up signing, save for the power to offer him the most money, which would be irrelevant if he really wanted to play elsewhere.
2)
Greg Monroe
, Restricted, Power Forward/Center, Detroit Pistons.
15.2 PPG, 9.3 RPG, 2.1 APG, 18.1 PER.
Greg Monroe has been the most underrated big man of the past three years. Here's a guy who has a complete back-to-the-basket game, is an excellent rebounder, has amazing court vision and passing abilities for his size and puts up consistently good numbers, despite being one of the only good players on his team, and nobody really even knows who he is.
For those who still don't know, Monroe is basically a young, athletic
Pau Gasol
. Monroe's numbers took a pretty big hit when the Piston's added
Josh Smith
and
Brandon Jennings
, and when
Andre Drummond
returned from injury, yet he was still very close to averaging a double-double and was still worth an 18.1 PER. His assists numbers are way down from last year, where he was fourth among centers with 3.5 assists per game, right behind Pau Gasol,
Marc Gasol
and
Joakim Noah
. He has a career 19.3 PER, and he even put up a 22.0 PER season just two years ago. And he's only 23. The only real knock on Monroe's game is his weak rim protection, as he has never averaged more than 0.7 blocks per game. Thankfully, the Lakers have a chance because the Pistons are so high on Drummond and have nowhere else to put Josh Smith, since he cannot play Small Forward for an extended period of time. All reports, so far, have indicated that Monroe is the odd man out in Detroit.
3)
Gordon Hayward
, Restricted, Small Forward/Shooting Guard, Utah Jazz.
16.2 PPG, 5.2 APG, 5.1 RPG, 16.2 PER.
Gordon Hayward is another guy who frequently gets overlooked due to being in a small market team, despite being very talented. Hayward is a player who can do just about everything you ask of him. He rebounds well enough, distributes like a natural guard and can score from just about anywhere within 30 feet. Hayward had his worst season last year from an efficiency standpoint, shooting career lows from everywhere except for the free throw line, but I don't blame all of that on Hayward; the Jazz were a horrendous team who have promise on the inside with
Derrick Favors
and
Enes Kanter
, but are completely depleted on the outside, with Hayward being their only good player.
The Jazz are likely to match most offers, however if a team wanted him badly enough, I'm sure the Jazz would rather not overpay for his services. Hayward has shown that he can't be the number one guy on his team, but he would be an excellent complimentary player to someone like, say,
Kobe Bryant
.
4)
Luol Deng
, Unrestricted, Small Forward, Cleveland Cavaliers.
16.0 PPG, 5.7 RPG, 2.9 APG, 15.2 PER.
Good job, Cleveland. You gave up multiple draft picks for Luol Deng, who was a terrible fit for the team, yet you wouldn't relinquish one first round draft choice for the services of the far superior Pau Gasol. After the Cavaliers lucked into the 1st overall pick (again), Deng is all but certain to leave the team, unless they end up drafting Joel Embiid, and then overpaying for his services, since Deng would be a third wheel on a team he never meshed well with to begin with.
Deng has proven to be adept at defense and scoring in years past, however, thanks to Cleveland's awful spacing and terrible coaching, Deng could never get going with them. If the Lakers end up getting a coach like
Lionel Hollins
, I can see them pursuing Deng strictly for his defense.
5)
Lance Stephenson
, Unrestricted, Shooting Guard/Small Forward, Indiana Pacers.
13.8 PPG, 7.2 RPG, 4.6 APG, 14.7 PER.
I don't even know where to begin with Stephenson. He's a talented guy who plays defense, and rebounds with the best of them for his position. He's also a good passer and a solid playmaker. Or at least, he was before he didn't make the All Star Game this year. Since then, his play style has changed dramatically, as he has focused primarily on scoring. His assist percentage dropped dramatically in the second half, going from 25% in the first half to 19% in the second. As a result, the Pacers have become a discombobulated mess and will need the old Lance Stephenson to advance against Miami.
People have speculated that Stephenson's style of play has changed because he felt not making the All Star Team has hurt his chances at a big free agency payday. The opposite has happened, however, as Stephenson is now slated to get paid in the 6-8 million dollar range, instead of the 10-12 million dollar range it was before the All Star break. All of this is just speculation, but the fact that we're even talking about this makes Stephenson not as desirable as previously thought.
6)
Trevor Ariza
, Unrestricted, Small Forward, Washington Wizards.
14.4 PPG, 6.2 RPG, 2.5 APG, 15.8 PER.
Old friend Trevor Ariza has bounced around a bit since he was traded 5 years ago (has it been that long? Time really does fly), as Ariza has played for (and struggled) with the Houston Rockets, New Orleans Hornets/Pelicans and, most recently, with the Washington Wizards, where he has excelled playing alongside
John Wall
. Ariza has become a lights out three point shooter, as he finished the year with 40.7% shooting from beyond the arch, and he continues to play excellent defense. It would be great to have him back, though I'm sure he would much rather stay in D.C. with John Wall and friends at this point.
7)
Spencer Hawes
, Unrestricted, Center, Cleveland Cavaliers
13.2 PPG, 8.3 RPG, 3.0 APG, 15.7 PER.
Hawes is not your typical center. For one, check out those assist totals. And two, he's basically a poor man's
Kevin Love
, as he actually quite the three point shooter. Last year, Hawes shot an outstanding 41% from downtown. He's not a guy who can carry the load, by any means, but he is a guy who can stretch the floor well, while still being an adept rebounder. He would be great to have to ensure that the lane isn't completely clogged when Kobe Bryant is in the post, however if you're relying on him to be your savior, then you have bigger problems.
8)
Ramon Sessions
, Unrestricted, Point Guard, Milwaukee Bucks
12.3 PPG, 4.1 APG, 2.4 RPG, 16.0 PER
Another old friend on the list, Ramon Sessions is really good at one thing, and one thing only: attacking the basket. That doesn't bode well for later in his career, but who cares about that, right? Sessions would be a nice guard to have, if he would be okay coming off of the bench; we already saw what happens when you put someone like Kobe Bryant with a guy who can't do anything other than attack the rim. Sessions is a quality guard, but not one who is an amazing fit, though it can be done if you get some viable options to stretch the floor.
9)
Danny Granger
, Unrestricted, Small Forward, Los Angeles Clippers
8.2 PPG, 3.2 RPG, 1.0 APG, 10.9 PER
Many would say Granger is over-the-hill, and isn't worth much now-a-days. I, however, say that Granger can still be an important piece on a playoff team. Sure, his days of being the number one guy who averages over 25 points per game are over, but Granger is still a guy who plays tough defense and can stretch the floor, as he is a career 38% three point shooter. Granger could be a quality signing, assuming no team gives him anywhere near the 14 million he made this year.
10)
Evan Turner
, Restricted, Small Forward, Indiana Pacers
14.0 PPG, 5.0 RPG, 3.2 APG, 12.4 PER.
Let's get this out of the way: Evan Turner is a bust. The former 2nd overall pick (who was taken before
Paul George
) has been worth a career 12 PER, and has been as inefficient as they come, shooting a career 42%, despite being 6'7'' and one of the most physically gifted players in the league. Turner is also not a very good defensive player. Nonetheless, the trade from Philadelphia to Indiana took a huge chunk of his sheer numbers down a notch, costing him millions of dollars in free agency, potentially making him a steal, depending on how he is valued in free agency. There's always the chance that he could still improve, and he would at least give the Lakers a more athletic perimeter player.